Adriana Firicano, attualmente Fondazione The Brass Group, con il suo cocktail La Lupa si è aggiudicata ad ottobre a Bologna il titolo di Lady Amarena Italia. Oggi ci presenta il suo drink Primadonna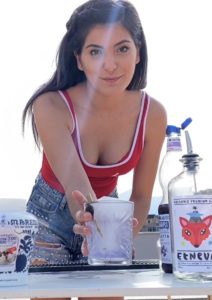 Ingredienti:
50 ml of etneum gin
20 ml of fresh lime juice
10 ml of Violet syrup fabbri1905
Soda Water Cortese
Twist on Classic sul Gin Fizz, con prodotti italiani a tuttotondo .
Lo sciroppo alla Violetta, oltre ad esaltare le botaniche floreali di Etneum gin , conferisce ovviamente il colore lilla che ricorda le splendide giornate estive.