PRESSO IL THE PANTHEON / ICONIC ROME HOTEL,
IN VIA DI S. CHIARA, 4/A, A ROMA
VISTA MOZZAFIATO SULL'URBE E CUCINA SORPRENDENTE BY FRANCESCO APREDA: ECCO IL DIVINITY
NUOVA APERTURA FIRMATA TRIDENTE COLLECTION CON UN INNOVATIVO FORMAT CURATO DAL TALENTUOSO CHEF AMBASSADOR DEL GRUPPO.
MENU NEL SEGNO DELLA CONDIVISIONE CON LA SPEZIAL PIZZA, LE PASTE CONVIVIALI, I THOOK, I CARPACCI DI PESCE E LA MOZZARELLA DI BUFALA.
E UNO SPAZIO SPECIALE PER I DOLCI.
Roma ha una nuova terrazza dalla quale essere ammirata, godendo al contempo della cucina di una delle firme più talentuose e in forma dell'intero panorama gastronomico italiano: Francesco Apreda. È lo chef campano infatti a curare l'innovativa proposta del Divinity, rooftop Lounge Bar & Restaurant del The Pantheon / Iconic Rome Hotel, prestigioso 5 stelle sito nel cuore antico dell'Urbe, a solo pochi passi dal Pantheon (in via di S. Chiara 4/A). Una struttura che è la punta di diamante del Gruppo Tridente Collection – corporate che vede al timone i fratelli Emidio e Fabrizio Pacini e Andrea Girolami – per il quale Apreda ricopre il ruolo di Chef Ambassador.
La vista che offre il Divinity è unica: un colpo d'occhio a 360 gradi sulle bellezze di Roma e sui suoi suggestivi tetti, con ben sette cupole a recitare un ruolo da protagonista. A spiccare, in tutta la loro magnificenza, sono in particolare Sant' Ivo alla Sapienza, capolavoro del maestro Borromini, e, ovviamente, il Pantheon. Ed è proprio da quest'ultimo, originariamente dedicato alle divinità, che il Divinity trae spunto per il proprio nome.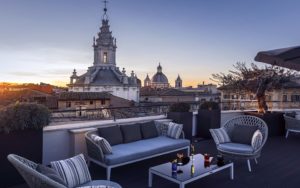 Pavimenti in marmo bianco statuario, intricata installazione a parete in ottone, bellissima cantina a vista, elegante bancone bar: questi gli elementi topici di un design esclusivo, capace di integrarsi alla perfezione con il panorama circostante, caratterizzando la raffinata sala interna e l'ampio dehors.
"Dopo l'apertura di Idylio, sempre all'interno del The Pantheon / Iconic Rome Hotel – sottolinea Emidio Pacini – per il Gruppo Tridente Collection il Divinity rappresenta senza dubbio un altro importante tassello in direzione degli obiettivi prefissati. L'intento è quello di creare, con il fondamentale supporto del nostro Chef Ambassador Francesco Apreda, dei format ristorativi ad hoc per ognuna delle nostre strutture. Proposte innovative in grado di dare lustro a una capitale mondiale come Roma".
E il format del Divinity innovativo lo è davvero, sintetizzando in modo sorprendente e quanto mai gustoso la filosofia culinaria di chef Apreda, napoletano d'origine, romano d'adozione e cittadino del mondo grazie alle esperienze acquisite tra Londra, Tokyo, Mumbai e New Delhi. Prima del cosa però, è importante specificare il come, perché qui ogni portata è pensata per essere condivisa, da due o più commensali, per un'esperienza quindi all'insegna della massima convivialità. Ed ecco in carta la Spezial Pizza, in versione tonda di semola a spicchi o quadra integrale al taglio. Ad uscire dal forno saranno, tra le altre, la Margherita Speziale, la Marinara Black Garlic & Black Lime, la Melanzane, Provola Affumicata e Curry Giallo, oppure la Pomodorini e Ricotta, Rucola e Masala. Largo poi alle Paste Conviviali, con personali e golose interpretazioni di Amatriciana, Carbonara, Cacio e Pepe, Puttanesca e Scoglio. È un omaggio all'India il Thook, ovvero lo spiedo con cottura tandoori e i prodotti del nostro territorio che strizzano ancora una volta l'occhio all'Oriente: dal classico Pollo Red Tandoori all'Astice al Curry Verde, passando per il Maiale all'Eucalipto e Capperi e le Seppioline al Limone Selvatico ed Erbe (e non solo). Nel Kore Food Bar invece (altra commistione, anche linguistica, tra il "cuore" napoletano e la spinta internazionale) sono protagonisti i Carpacci di Pesce e la Mozzarella di Bufala. Quest'ultima è declinata alla maniera di Apreda, e quindi in versione "38°" o in una Caprese…Tiepida, Liquida e Affumicata. Mentre di Mediterraneo e luoghi esotici parlano i carpacci: gli Scampi, Mango e Limone, la Spigola, Alghe e Yuzu, o i Gamberi Rossi, Avocado e Cedro, solo per fare alcuni esempi. Non mancano altre proposte sfiziose e divertenti come il Variegato di Pomodori e Basilico e il Sedano, Olive di Gaeta e Fumo di Rosmarino. Capitolo dessert affidato all'estro della giovane Pastry Chef Edvige Simoncelli: suoi i Dolci in Vetrina, ovvero una curata e ghiotta selezione di piccola pasticceria da scegliere direttamente dalla vetrina. Mentre per tutto il resto, al fianco di Apreda, c'è l'Head Chef Francesco Focaccia, suo storico secondo da più di 20 anni.
"Ho fin da subito – spiega lo chef Francesco Apreda – pensato al Divinity come un luogo dove far convergere tutte le mie anime e le mie passioni: dalla pizza al tandoori passando per i crudi e la mozzarella di bufala. Un format sicuramente fuori dagli schemi, dove in coppia o tra amici si potrà creare la commistione preferita tra Oriente e Occidente. A fare da fil rouge sono senza dubbio la qualità della proposta e l'eleganza dell'ambiente: uno stile che contraddistingue il Gruppo Tridente Collection".
In abbinamento alla "fantasia" di Apreda, tante bollicine, Champagne in primis e spumanti italiani di gran pregio. Non mancano ovviamente altre etichette provenienti dai migliori terroir della Penisola, con alcune chicche d'oltreconfine. A curare la cantina e dirigere il servizio di sala è Fabrizio Gismondi, restaurant manager e sommelier del Divinity. Ruolo di primo piano anche per la mixology, grazie ai cocktail studiati dal bartender Mirko Zaccaria: dai grandi classici alla linea signature, dedicata, e non poteva essere altrimenti, alle divinità della mitologia romana. Spazio quindi a "Bacco", a "Cibele", a "Vulcano" e ad altre figure dell'Olimpo capitolino.

DIVINITY RESTAURANT
The Pantheon / Iconic Rome Hotel
Via di S. Chiara, 4/A – Roma
Tel. +39 06 87807069
Aperto tutti i giorni dalle ore 12.00 alle 14.30 e dalle 19.00 alle 23.00
www.thepantheonhotel.com/ristoranti/divinity/
E-mail: divinityterrace@thepantheonhotel.com
FB: Divinity Terrace – IG: @DivinityTerrace
Foto di Alberto Blasetti.
Foto di Alberto Blasetti.